Interface: Ikuhlu CNC motion control waterjet software
Ikuhlu is WARDJet's fast, user friendly, easy to learn waterjet controller software. Its advanced capabilities allow you to reliably waterjet cut quality parts efficiently.
Teach Parts
Using the built-in "Teach" mode, the machine can be used as a digitizer the size of the waterjet table. Just use the controller's jog controls to "trace" your template, point by point, to create CNC files right at the controller! Drawing curves and lines are fast and simple - no need to use CAD/CAM software.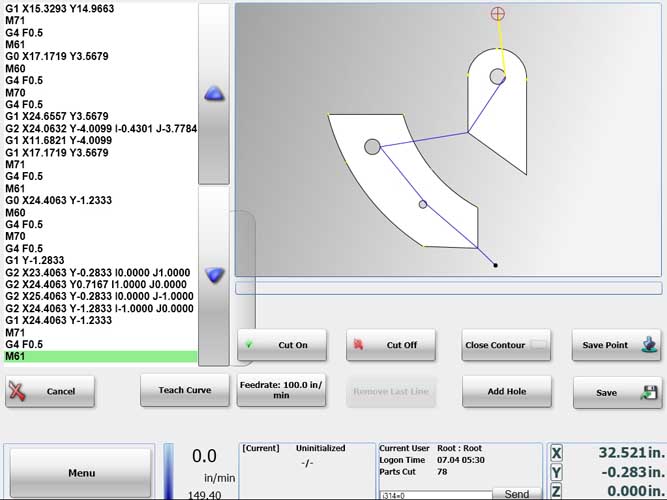 Free Software Upgrades
Updates are available as new features are added. By checking the update site and installing the latest version, you can stay on the cutting edge of controller technology.
E-mail Notification
The controller can be configured to send out e-mail notification after the completion of a part. E-mails include an image of the part that was cut, along with who cut it and the amount of time it took to cut.
Gantry Monitor
Squareness of a gantry system is critical to cutting accurate parts. The controller continuously monitors motor travel and notifies the operator when it's time to re-home.
User Passwords
Each user receives a unique password, and can be put into one of three user levels (Operator, Power Operator or Administrator). Each user level can have its permissions easily changed by an administrator. The ability to add/remove part programs, edit part programs, enter maintenance information, change parameters, etc. can be adjusted, to allow your operators as much or as little freedom as you wish. While logged in, the program tracks how many parts were cut, what maintenance was done, and what faults occurred for a given user. All of this data is logged into a text file.
Unlimited Go To function
Start a program anywhere by simply touching the part on the touch screen at the location you wish to start cutting. You can also enter absolute or incremental data and co-ordinates.
Remote Diagnostics
Tech support and diagnostic troubleshooting can be done anywhere in the world. A skilled technician can control your waterjet remotely through the internet.
G+M translation
The controller accepts standard G-Code parts, so you're not locked into any specific software package to create parts for your machine.
Interrupt Jobs
And restart them again later