Back to index
Instant Waterjet Cutting
American Machinist - Jan. 2006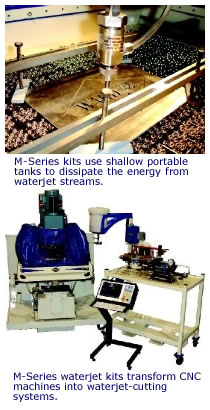 M-Series retrofit kits transform practically any CNC machine, including milling and turning machines, lasers, routers, robotic arms and oxy-fuel or plasma cutters, into waterjet-cutting systems. The removable kits provide shops with a low-cost alternative to fullsize dedicated systems and turn host machines into multitasking units. The kits, from WardJet Inc. can be mounted quickly and run with the least amount of effort. A rolling cart houses all necessary components, including a ball-bearing tank, enclosure tent, cutting head, abrasive-feed system and intensifier pump. Shops simply maneuver carts to host machines, place the ballbearing tank onto the host machine's table using a crane or forklift, bolt down the tank, mount the waterjetcutting head, and attach about six hook ups for water, drainage, abrasive feed and air.
To meet various part sizes and thicknesses, WardJet offers working areas up to 2 by 4 ft and tank depths of 3.5, 5 and 8 in. that accommodate the available 20,000, 40,000, and 60,000-psi pump pressures. Optional 40,000 and 60,000-psi pumps cut parts as thick as 10 in., while standard 20,0000-psi pumps handle thicknesses up to 2 in. in aluminum and 0.750 in. in steel. Unlike standard, full-size waterjet machines with 30-in.-deep water tanks, the M-Series uses ball bearings in shallow tanks to dissipate energy from the high-pressure water stream and to keep it from cutting into the host machine's table. A series of water-powered jets flush abrasive materials and kerf from tank bottoms, wastewater and material flow through filters that catch the abrasive, and residual water runs down standard shop drains.
Grating and clamping systems built into the ball-bearing tanks secure parts for cutting. The adjustable clamping allows users to position and hold parts anywhere on the table.
To protect the host machine from contamination, kit tents enclose entire cutting envelopes, including the cutting head and ball-bearing tank. The shape of the tent also allows total freedom of movement for the cutting head and features clear windows for part loading/unloading, visually monitoring on-going work and letting light into work areas.
Cutting heads use about 0.7 gpm of water supplied by standard-kit pneumatic pumps sourced by regular tap water. These pumps run on compressed air, so there are no problems with hydraulic-component failures.
Because the M-Series waterjets are retrofits to existing equipment, shops do not have to learn any new control or programming. The same programming that operates the existing host machine generates motion for waterjet cutting. Shops simply "hook into" host machine outputs to activate waterjet-cutting heads and abrasive-feed units.
M-Series kits also include spare ball bearings, high-pressure tubing, workholding clamps, manuals, instructional videos and guidance on waterjet cutting. In addition, WardJet will build customized kits.
For more information, visit www.wardjet.com; email to: sales@wardjet.com, call 330-677-9100 or fax 330-677-9121. Compiled from e-mails and interview with Richard Ward, President of WARDJet, Inc.
Back to index