Choosing the Right Garnet Abrasive

Garnet has been used for decades as an abrasive in waterjet cutting and sand blasting because of its superior physical properties. When added to high pressure streams of water, garnet abrasive is capable of cutting through tough materials including steel, aluminum, stone, and Inconel.
With the variety of garnet abrasives available, how do you decide which is right for you? By understanding a little more about garnet, you are able to make an informed purchase on which type of abrasive would work best for your application.
Waterjets and Abrasive
A waterjet should be seen as an accelerated, controlled erosion process. A pure water waterjet (one without abrasives) is ideal for very soft materials, such as rubber, foam or food products. When abrasive is added, virtually anything can be cut or eroded away. By adding abrasive, you can greatly enhance the cutting capability of your waterjet and expand the variety of materials you can cut.
A waterjet will use anywhere from 0.3 lbs/min to 2.0 lbs/min of abrasive. This quantity is known as the abrasive flow rate and is determined by factors including the size of your pump and nozzle. The typical usage for a waterjet company is about one pound of abrasive per minute per cutting head.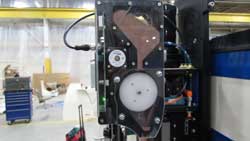 Advantages of Garnet for Waterjet Cutting
Garnet is a hard mineral typically rated between 7.0 and 7.5 on the Mohs scale (where diamond is 10 and talcum powder is 1). Also, well washed garnet abrasive does not produce a lot of dust when cutting like other processes might. Garnet is also relatively chemically inert and will not react with materials being cut, making its disposal simpler. These qualities are advantageous in waterjet machining.
Types of Garnet Abrasive
Types of garnet abrasive are determined based on their origin. Today, the largest sources of garnet sand used for waterjet abrasive are the Indian and Australian coasts. Understandably, the main producers of garnet abrasive are companies that are also located in Australia and India.
Alluvial garnet (river garnet) - Alluvial garnet is particularly abundant in Australia. This alluvial garnet is typically found in deposits in river bends or natural hollows and has been smoothed by constantly running water. Both river and the beach garnet suffer from the tumbling effect of thousands of years which rounds off the edges.

Rock garnet - Rock garnet is produced in America, China, and western India. Here the garnet is embedded in a host rock which, after being crushed in mills and washed, is separated out. Being freshly crushed, this garnet has the sharpest edges and consequently performs far better than other kinds of garnet.
Abrasive Mesh Size
After it is crushed or collected, garnet abrasive is sorted according to mesh size. Grains 60 mesh and larger are typically used in sand blasting, and grains from 60-120 mesh are collected to be used in waterjet cutting. When garnet is introduced to the waterjet stream traveling at over 2000 mph, the abrasive is accelerated to supersonic speeds creating an extremely focused and powerful cutting tool that erodes material away, in most cases, without changing the molecular structure of the materials. Regardless of the application, larger grain sizes are used for coarser, faster work, and smaller sizes are used for finer finishes. A key consideration is the momentum of each particle. The larger the particle, the greater the momentum and subsequent power the waterjet stream has for cutting harder and thicker materials.
Abrasive Cost
Abrasive represents the largest consumable cost associated with running the waterjet cutting machine. Prices for abrasive can vary from around 15 cents per pound to higher than 40 cents per pound, depending on the quality of the abrasive and where it is purchased. Since crushed garnet is typically found mixed with other minerals and must be blasted out of a mine, it costs slightly more than alluvial abrasive. Although crushed rock garnet is considered 'high performance', some waterjet owners have seen better results using alluvial abrasive. In certain situations, the sharp grains of the crushed rock are critical to specific applications such as cutting horizontally stressed acrylic. Performing tests with both garnet types is recommended for waterjet owners to determine the ideal abrasive type. Alluvial is the more commonly used abrasive.
Some distributors may offer a reduced price per pound if the abrasive is purchased in bulk. You might even coordinate your purchase with a nearby branch location to reduce shipping costs. Be wary of signing lengthy contracts for abrasive unless you are 100% sure that the abrasive you are ordering is right for your long term needs.
In some cases, using a higher priced abrasive may actually reduce your hourly cost of operation. Good abrasive that performs well will allow you to cut material faster. As a result, you could get more inches of cutting done per dollar spent on abrasive. The operator must work to maximize cutting speed and should be aware of other factors that affect cutting speed such as the condition of the orifice and nozzle.
Some Qualities to Look for in Abrasive
Avoid purchasing abrasive on price alone because, as the old adage says, you will probably get what you pay for. Many factors determine a good abrasive, and the advantage of using a high quality abrasive is that you will get faster cutting, higher precision, and less frequent nozzle plugging.
Here are some qualities to look for in an abrasive:
Double Sifted - When you purchase double sifted abrasive, the distributor uses a sieve to remove particles that are too fine or too large for the desired mesh size. Fine particles and large particles both contribute to nozzle plugging, inefficient cutting, and other problems. While there will always be a range of particle sizes in an abrasive, the narrower the range, the better.

Purity - An abrasive with impurities will affect your waterjet's cutting performance. Impurities are made up of materials that are softer than garnet and can lengthen your cutting time.

Mesh Size - A larger number represents a smaller size abrasive, so 100 mesh is smaller than 80 mesh. If cutting thin or softer materials and a good finish is needed, a finer abrasive such as 120 or 150 mesh is recommended. When cutting harder or thicker materials, choose a coarser abrasive, such as 50 mesh or 60 mesh. For a smoother surface finish, use a finer abrasive such as 100, 120, or 150 mesh. 80 mesh abrasive is the most popular abrasive size because it provides the greatest versatility for a wide variety of applications. Consult the manufacturer of your nozzle for recommendations.

Recyclability - Some garnet grains in both alluvial and hard rock categories have fracture planes in them. This causes the grains to shatter into smaller pieces when they hit the water stream prior to coming into contact with the material being cut. Even though this type of abrasive will provide a smoother edge finish, it will slow down the cutting of thicker materials and it cannot be recycled. Since recycling could allow waterjet owners to reuse approximately 50% to 80% of the original abrasive, it is advisable to use an abrasive that recycles well and cuts well.
Recycling Abrasives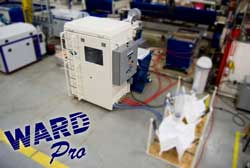 WARDJet's patented WARD Pro abrasive recycling system can reduce consumable abrasive costs. The WARD Pro works by removing used abrasive from the waterjet tank with the AROS system. Through a series of processes, the WARD Pro then washes, dries, and separates the used abrasive according to mesh size. Both very fine and large particles are discarded during the recycling process, leaving you with dry, reusable garnet abrasive that can be put directly back into an abrasive hopper. The recycled abrasive can be used entirely on its own or mixed with new abrasive.
To be clear, there are similarities and differences between new and recycled abrasive. Both new and recycled abrasives are composed of a variety of mesh sizes. After going through the cutting process, the soft "filler" minerals found in new abrasive are shattered into extremely small particles and are subsequently filtered out by the WARD Pro. The resulting recycled abrasive has less "filler" material present and is more densely packed with the sharp-edged garnet that is doing the actual cutting. After more than 10 years of testing, WARDJet has determined recycled abrasive can cut with flow rates, cut speed, and edge quality as good as, and some claim better than, new abrasive. Certain limitations apply to recycling; please contact a WARDJet representative for more information or visit the WARD Pro web page.
Conclusion
Finding the right garnet abrasive is tantamount to successful waterjet cutting. By considering the type of garnet abrasive to use and weighing the advantages of cost, quality, source, and recycling capabilities, you are able to determine the best fit for your waterjet cutting application.
If you are still uncertain about which type of abrasive to use with your waterjet, the team at WARDJet would be happy to use their many years of experience to help you arrive at the best abrasive decision. Contact a representative today at 330-677-9100 or sales@wardjet.com.

Click here to view the WARDJet January 2014 Newsletter as a PDF
New Small Scale Emerald Series Designed for Local Industry Leader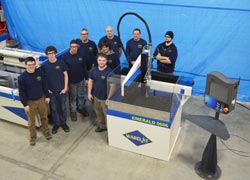 WARDJet specializes in designing and building custom machines for unique applications. From water-only systems with automation capabilities to super-sized abrasive waterjets that fill entire rooms, WARDJet engineers and production staff enjoy creating machines that are unlike anything else available. Browse through a few of these unique systems by visiting the WARDJet Custom web page.
Recently, WARDJet completed work on a high quality waterjet cutting system with a small footprint for a well-known corporation headquartered out of Northeast Ohio. This waterjet system, known as the Emerald 0606, is the smallest waterjet ever fabricated by WARDJet with a cutting area of 2' by 2'. Although small in size, the dependability of the Emerald 0606 is reflected in its sturdy design. Thick-walled steel tubing serves as the crossbeam of the Emerald 0606 waterjet and the tank, supports, and grates are the same construction as in much larger waterjets. In fact, the entire machine was welded, heat stress relieved, powder coated, and milled as one piece which adds to its overall reliability.
The Emerald 0606 waterjet is also unique because it features a cantilever-style arm on the X-Axis, unlike any other WARDJet waterjet. However, it does use ballscrew drives on the X- and Y-Axes and an Acme screw controls the Z motion of the cutting head. This waterjet system is capable of cutting with abrasive or pure water, depending on the application. Therefore, the tank will be outfitted with custom-sized Job Shop Grates™ or plastic water bricks as appropriate.
This machine will be used in an R&D environment at this customer's location, but the Emerald 0606 would be an ideal waterjet solution for hobbyists, small job shops, and universities as well. Contact the WARDJet sales team for more details on the Emerald 0606 and to see if it would be a good fit for your application or visit the WARDJet Emerald Series web page for more information.


SCMSG Gives Back to the Community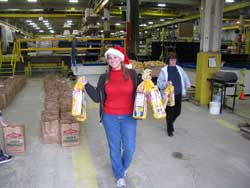 As a member of the Summit County Machine Shop Group, WARDJet is proud to work with other local businesses to give back to the Greater Akron community. This year, the SCMSG put together holiday meals of non-perishable food items for more than 120 needy families. The SCMSG is also proud to be hosting this holiday food drive for its 10th year.
It is an incredibly fulfilling experience bringing joy to those who are less fortunate during the holiday season. Thank you to all who contributed to making this year's food drive a success!






Happy New Year from WARDJet
The team at WARDJet wishes you a happy and healthy 2014. As always, we are excited to continue working with our customers to find ideal solutions to their waterjet cutting needs. May you find much success this year!