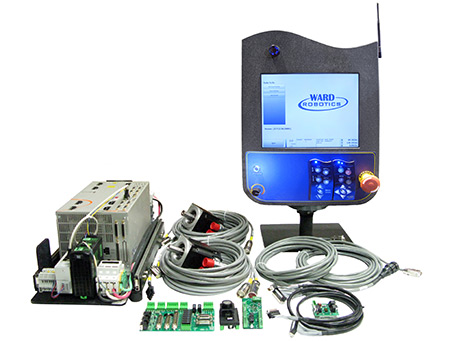 Retrofits
CNC CONTROLLER RETROFITS
WARDJet has retrofit more waterjet cutting machines and other types of CNC equipment with our controller than any other waterjet manufacturer in the world. Our innovative software and waterjet controls will add features and capabilities to your existing equipment that you never dreamed possible before. Gain access to 100% free remote support of your machine and enjoy the reliability and stability of a WARDJet waterjet machine.
Programmable Z-Axis
Manually adjusting your cutting head height before every cut can become tedious. Add the ability to set and program your cutting head height with the press of a button.
Trusted Hardware
Our retrofits use the same hardware our manufactured waterjets use including Servo drives and motors.
Advanced Software
Gain access to state-of-the-art cnc motion control software with features like jump to point, programmable z-axis, email notification, consumable management, user permissions and more.
Touch Screen & Webcam
Speed up your production with an intuitive touch screen interface. Plus, there's a dedicated webcam for when you need remote support from one of our waterjet specialists.
Dedicated Hardware Controls
Rather use a button? We hear you - our controllers come equipped with dedicated membrane panels that are ergonomically placed for ease of use. Control your machine's motion and I/O inputs directly from the same panel.
Any Waterjet Brand
A&V Waterjet, Allen Bradley, Burny, Bystronic, Calypso, Centroid, ESAB, Fagor, Flow, H2O Jet, Hypertherm, JetEdge, KMT, Knuth, MultiCam, Omax, Osai, Rhino, Romeo, Semyx, Siemens, TECHNI and many more
Breathe new life into your waterjet
For the fraction of the cost of buying a new system, you can outfit your current waterjet with a fully loaded CNC Motion Controller. Gain capabilities you wish you had years ago.
What comes standard with my Retrofit?
Tap into hours of Training & Support
Bundled with the purchase of a Retrofit comes access to our remote support program which includes:
FREE Controller Training
with the purchase of a Retrofit
Lifetime Remote Support
Years of waterjet knowledge within an instant
Waterjet University
Comprehensive online knowledgebase
Support Videos
Categorized Video Library
Some Things Are Better Left to the Professionals
As much as we would like it to be, not every retrofit is created equal. As convenient as a kit shipped to your door sounds, we have found that it often results in a less than stellar user experience and sometimes worse, a non-working machine. WARDJet is here to lend you our 22+ years of waterjet knowledge and expertise. We've been around the block a few times and know all the ins and outs to retrofitting a CNC motion system. Our team of Electrical and Mechanical Engineers works with you one-on-one to provide a tailored retrofit solution.

The entire project is then completely managed and installed by our experienced waterjet professionals. This ensures that you are back up and running without any unnecessary downtime. We love a challenge - call us today!

We enjoy the challenge of being told things cannot be done - we then find a way to do them.
Retrofits at a Glance
---
Retrofit Brands
Nearly any CNC waterjet or other CNC machine can be retrofit with a new WARDJet controller.
Compatible Drive Systems
Ball Screw, Linear, Belt Drive, Rack & Pinion, and more
Advanced Features
Gain access to the advanced features our motion controller software comes packed with: programmable z-axis, consumable management, jump-to-point, email notifications, user accounts, and more
Trusted Hardware
Our retrofits include the same hardware used in manufacturing our own waterjets including: XL Controller and Servo Motors
XL Controller Specs
| Spec | Detail |
| --- | --- |
| Operating System | Windows 10 Professional |
| CPU | 3.2GHz Quad Core (AMD A Series) |
| Memory | 4GB ram DDR3 1600MHz |
| Storage | 120GB Solid State Drive |
| Connection | Gigabit Ethernet Card |
| Wireless | 802.11N Card |
| Monitor | 15" touch-screen |
| USB | 4 external USB 2.0 ports |
| Servo Cycle | 0.4 ms |
| Hardware/Software Controls | Feed Rate Override Knob, E-Stop, Water ON/OFF, Abrasive ON/OFF, Jog Controls, Go, Stop, Reverse, and Jump |
| Membrane Panels | Up to 4 |
| Standard number of true CNC axes | 4 |
| Max Number of Controlled Heads | 3+ |
| Also Included | Wireless Mouse, Wireless Keyboard, 1 power cord, 1 network cable |
Additional Information
What can waterjets cut?
Wood, Stone, Composites, Sheet Metal, Foam, Food, Glass and much, much more...
How do we keep our prices down?
This has been achieved by pioneering an innovative business model specifically aimed at helping our customers. Simply put, we cut out all of the middlemen and high cost centers that do not directly contribute to the building of a great waterjet system.
Why the extra foot of travel?
Often, when adding a second cutting head, the distance the first cutting head can move is reduced to make space for the additional head. We added the extra foot of travel to "park" the second head when not in use. This allows you to have full range of the first cutting head when the second is not in use.
Why the independent carriages?
The benefit of having separate cutting heads on completely independent Z-Carriages is the freedom the operator gets to place the heads as close or as far apart as desired within seconds. Each Z-Carriage has its own motor driven height adjustment, and can be configured to have an independent height sensor.
How thick can waterjet cut?
Waterjet can cut 10" thick stainless steel without too much difficulty, but can cut even thicker material (18" thick Titanium) if the application demands it.
Start Cutting!
Get Solutions. Start tailoring your waterjet today!